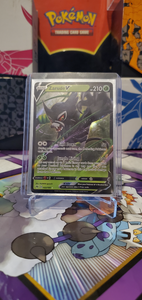 Card Number / Rarity:
022/185 / Ultra Rare
Card Type / HP / Stage:
Grass / 210 / Basic
Attack 1:
[2] Bind Down (50)
During your opponent's next turn, the Defending Pokémon can't retreat.
Attack 2:
[GG] Jungle Rising (100)
You may attach up to 2 Basic Energy cards from your hand to your Benched Pokémon in any way you like. If you attached Energy to a Pokémon in this way, heal all damage from that Pokémon.
Weakness / Resistance / Retreat Cost:
Rx2 / None / 1