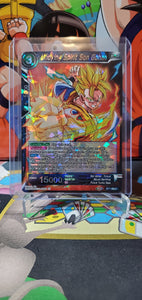 [Counter:Play] Play this card.
[Permanent] If a multicolored card is in your energy, reduce the energy cost of this card in your hand by 1.
[Auto] When you play this card, choose up to 1 of your opponent's Battle Cards with an energy cost of 4 or less, and return it to its owner's hand. Then, if it's your opponent's turn, choose up to 1 of your blue energy and switch it to Active Mode.
Rarity:

Rare

Number:

BT7-029

Card Type:

Battle

Color:

Blue

Energy(Color Cost):

3(B)

Special Trait:

Saiyan Earthling

Power:

15000

Combo Power:

5000

Combo Energy:

0

Era:

Future Trunks Saga

Character:

Son Gohan: Future