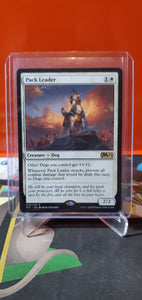 Other Dogs you control get +1/+1.
Whenever Pack Leader attacks, prevent all combat damage that would be dealt this turn to Dogs you control.
Rarity:

R

#:

29

Card Type:

Creature — Dog

P / T:

2 / 2

Flavor:He will be your loyal champion, and his pack your protectors. All he asks for is a full belly, a spot by the fire, and all the love in your heart.