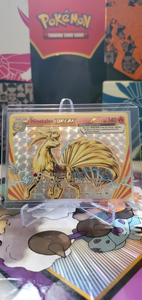 Card Number / Rarity:
16 / Ultra Rare
Card Type / HP / Stage:
Fire / 140 / BREAK Evolution
Card Text:
Ninetales BREAK retains the attacks, Abilities, Weakness, Resistance, and Retreat Cost of its previous Evolution.
Attack 1:
[1R] Explosive Fireball (10+)
Discard all Fire Energy attached to this Pokemon. This attack does 60 more damage for each Energy card discarded this way.
Weakness / Resistance / Retreat Cost:
None / None / 0