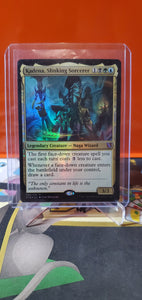 The first face-down creature spell you cast each turn costs 3 less to cast.
Whenever a face-down creature enters the battlefield under your control, draw a card.
Rarity:

M

#:

45

Card Type:

Legendary Creature — Naga Wizard

P / T:

3 / 3

Flavor:"The only constant in life is the unknown."