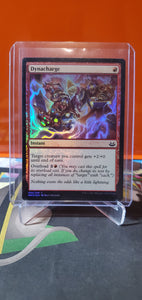 Target creature you control gets +2/+0 until end of turn.
Overload 2R
(You may cast this spell for its overload cost. If you do, change its text by replacing all instances of "target" with "each.")
Rarity:

C

#:

94

Card Type:

Instant

Flavor:Nothing evens the odds like a little lightning.