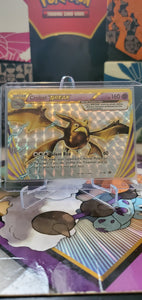 Card Number / Rarity:
XY181 / Promo
Card Type / HP / Stage:
Psychic / 160 / BREAK Evolution
Card Text:
Crobat BREAK retains the attacks, Abilities, Weakness, Resistance, and Retreat Cost of its previous Evolution.
Attack 1:
[3] Silent Bite (60)
You may leave your opponent's Active Pokemon Poisoned. If you do, shuffle this Pokemon and all cards attached to it into your deck.
Weakness / Resistance / Retreat Cost:
None / None / 0