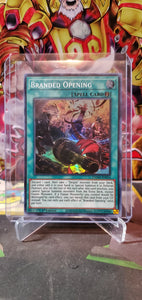 Product Details
Discard 1 card, then take 1 "Despia" monster from your Deck, and either add it to your hand or Special Summon it in Defense Position, also for the rest of this turn after this card resolves, you cannot Special Summon monsters from the Extra Deck, except Fusion Monsters. If a Fusion Monster(s) you control would be destroyed by card effect, you can banish this card from your GY instead. You can only use each effect of "Branded Opening" once per turn.
Attribute Monster Type/Card Type:

SPELL /Quick-Play Spell

TCGplayer Tip:

Branded's one of those themes that's often happy to dump a card to the graveyard, so the discard cost of BBranded Opening is often a non-factor. Meanwhile it grabs you any Despia monster you want, like AAluber the Jester of Despia, and then it sits in your graveyard keeping your monsters safe.