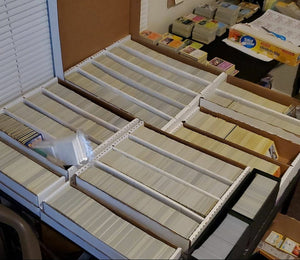 Never used mint condition cards!
Holos and reverse Holos included
-Pick Your Holos on my livestream @ Twitch.tv/Nellyniftynautics @9pm est Fri-Sun (If not present I'll Pick them out for you)
Comes with 425+ cards total
-Duplicate cards will be in your order No Trainer's and No ENERGIES!
-All cards ranges from all Eras and Randomly Prepack for fast shipping.

Please Note: If ordered more than 1qt there may be even more Dups in your order.
(Picture is For Display of my Collection, You Will Not Get All These Cards For $90)

Also Shipping process takes 1-2 weeks due to high volume. Sorry about that. (If Urgent need asap please message and I can see what I can do).